Latest News
January 8, 2021: Eva Umlauf on the riots in Washington, D.C.
Holocaust survivor Eva Umlauf comments on the riots in Washington, D.C. in the New York Times article Amid the Rampage at the U.S. Capitol, a Sweatshirt Stirs Troubling Memories.
November 5, 2020: Opening of the DFG network "Testimony meets Technology"
On 5 November 2020, members, associates and guests of the DFG network "Testimony meets Technology" met for the first time via Zoom to discuss the past, present and future of interactive digital testimonies of Holocaust survivors. Almost twenty researchers and experts from various countries, institutions and disciplines took part in the six-hour kick-off event.
After the welcome addresses by Prof. Claudia Wiener and Prof. Hans-Bernd Brosius, Dr. Christina Brüning and Sanna Stegmaier provided insights into their investigation of the USC Shoah Foundation's Dimensions in Testimony project. Prof. Gary Mills and Prof. Alan Marcus shed light on the opportunities and difficulties posed by digital and analogue testimony which they encountered during their research at the National Holocaust Centre and Museum. Prof. Anja Ballis and Prof. Markus Gloe discussed empirical questions and methodological challenges in the Munich project LediZ. Prof. Frank Bajohr presented achievements, changes and obstacles of Holocaust research in the 21st century. Each of the presentations was followed by a lively and fruitful exchange: Data collection and evaluation during the pandemic, national narratives and internationalised culture of remembrance, new and old pedagogical-didactic problems as well as the roles of man and machine were among the issues discussed.
The network members are excitedly looking forward to the next meeting.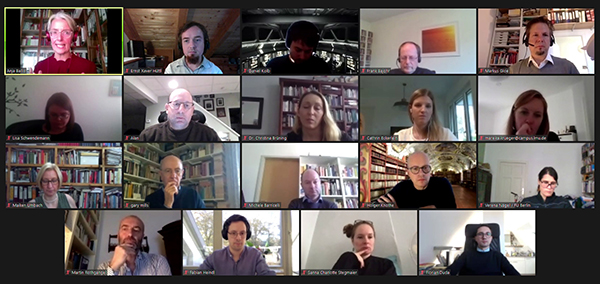 Publications (1)
The collective volume "Holocaust Education Revisited: Wahrnehmung und Vermittlung • Fiktion und Fakten • Medialität und Digitalität" (Holocaust Education Revisited: Perception and Teaching • Fiction und Facts • Mediality and Digitality) will be published in December 2019. Edited by Anja Ballis and Markus Gloe.
Press Releases (4)